Heat Pumps
Cold-climate heat pumps offer versatility in the comfort of your home including heating, cooling, and humidity control.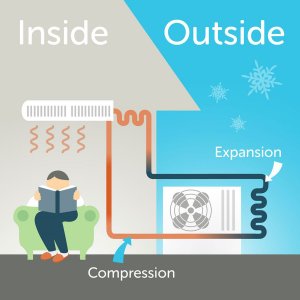 Heat pumps can both cool and heat your whole home, offering an energy-efficient HVAC system for hot, humid summers and the cold, snowy winters in the Northeast.
Choose from single-stage, two-stage, or the more advanced variable-speed heat pumps that provide premium home comfort with precise temperature control.
When comparing your options, keep in mind the higher the SEER*The Seasonal Energy Efficiency Ratio is a measure of the cooling efficiency of your air conditioner or heat pump. The higher the SEER number, the more efficient the system is at converting electricity into cooling power. and HSPF*The Heating Seasonal Performance Factor is a measure of the heating efficiency of a heat pump. The higher the HSPF number, the more efficiently the heat pump heats your home. (The cooling efficiency of a heat pump is measured by its SEER.) ratings of a heating and cooling system, the more efficient it will be.
Heat Pumps*A product that works just like an air conditioner in cooling mode; however, in heating mode, the refrigerant flow is reversed and heat is extracted from the outside air too heat your home. could be the home comfort solution you've been looking for and an HVAC system that can lower your utility costs all year long!
Looking for ductless split options?
Find information and model specifications here.
GOOD
Comfort Series
Carrier's Comfort Series are reliable and efficient, as well as budget friendly. They provide comfort by working in one speed that turns on and shuts off within a few degrees of your thermostat setting.
BETTER
Performance Series
Carrier Performance Series heat pumps offer good efficiency and usually have two-speed fans. These units generally run at the lower speed to keep the room temperature more consistent throughout the day.
BEST
Infinity Series
Like the name states, Carrier's Infinity Series heat pumps are the best option in terms of comfort, humidity control, and noise levels. These units operate very efficiently to meet your exact requirements for home comfort.