Ductless Split HVAC Systems
A ductless split system can be the solution to many home comfort issues. Do you relate to any of these challenges?
Live in a home without central air conditioning?
Have baseboard radiator heat (no ductwork)?

Tired of lugging those ugly window units in and out each year?
Do you miss the view outside your window?
Is your family shouting over the fan noise to have a simple conversation?
Do you have hot or cold spots in your home?
If so, a ductless split system may be the perfect solution for you!
With a single-zone ductless split system, you can heat or cool one room such as a bedroom, man cave, bonus room above the garage, new addition, or 3-season porch easily and efficiently. You can also cool the entire house with a multi-zone ductless split system keeping each room at the desired temperature.
These systems can be professionally installed within a day or two, can heat or cool up to five rooms, and offer convenient, programmable remote operation.
With endless configuration options, ductless HVAC systems come in a variety of shapes and sizes with the flexibility to match your home's needs.
Each unit can be strategically located for improved comfort and minimal aesthetic impact. That includes mixing and matching high wall units with ducted, console, or cassette units inside, with a single, outdoor compressor for multi-zone systems.
Indoor Styles
With 4 different Indoor styles to choose from for all single zone and multi-zone applications, Carrier has the right unit to fit in every décor.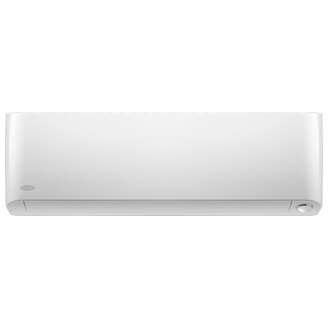 High-Wall Ductless Split Systems
Mounted on a small area of wall space near the ceiling, these ductless products fit seamlessly into nearly any décor. Using the convenient remote control, comfort levels can be easily and precisely adjusted to match your needs.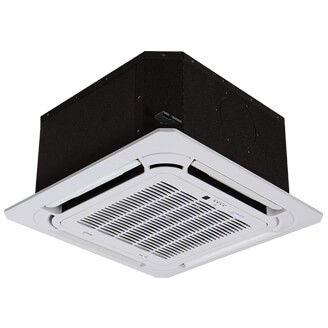 Ceiling Cassettes Ductless Split Systems
Cassettes blend into your overhead space to deliver quiet, efficient comfort to your new or remodeled space.  A handheld remote control allows you to customize the temperature with three available fan speeds.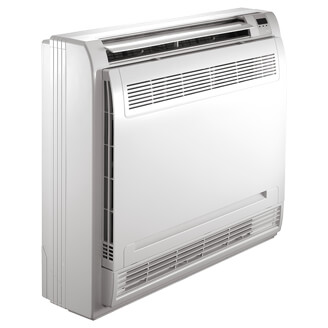 Floor Console Ductless Split Systems
The perfect addition to your new or remodeled space, the Carrier Floor Console delivers quiet, heating and cooling comfort. It offers the convenience of a temperature-sensing handheld remote and customized control over your comfort with three available fan speeds. This is a great option for 3 season porches and many other applications!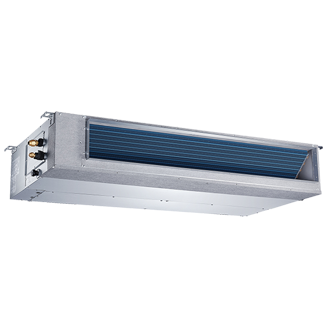 Ducted Ductless Split Systems
Designed to fit in the ceiling, under the floor or vertically in the wall, it's perfect for either a single- or multi-zone ductless split system. This model offers the convenience of a temperature-sensing handheld remote as well as customized comfort with three available fan speeds.
GOOD
Comfort Series
Carrier's Comfort Series are reliable and efficient, as well as budget friendly. They provide comfort by working in one speed that kicks on and shuts off within a couple of degrees of your thermostat setting.
BETTER
Performance Series
Carrier Performance Series offer mid-range efficiency and usually have two-speed fans. These units generally run mostly at the lower speed and it's able to keep the room temperature more even throughout the day.
BEST
Infinity Series
Like the name states, Carrier's Infinity Series is the best option in terms of comfort, efficiency, humidity control and noise levels. These units operate to meet the exact requirement for the room.