Ductless HVAC Systems
Any Space. Any Need. Any Use.
Ductless HVAC systems provide comfort anywhere it's needed.
Ductless mini-split systems are innovative heating and cooling solutions that make sure non-ducted spaces are as comfortable as any ducted space. These high-efficiency heating and cooling systems can also help you save money by keeping your most-used rooms optimally comfortable.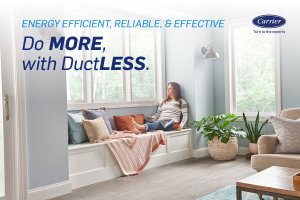 If you live in a home with no central air conditioning (or ductwork), ductless splits are the perfect solution – whether you want to cool one room or the whole house. Ductless split systems are perfect for heating and cooling new room additions, garages, basements, sunrooms, or any place in your home that has hot or cold spots. See the features and benefits here.
With single- or multi-zone systems you can just cool or both heat and cool your home with one outdoor condensing unit. Quieter, safer, and more energy efficient than window air conditioners, ductfree (or ductless) split system heat pumps also offer efficient heating during the Northeast's shoulder seasons.
Your local HVAC contractor can help determine what is the best system for your family's needs and home and install it within just a few days.
When comparing your AC options, keep in mind the higher the SEER and HSPF ratings, the more energy efficient it will be. Your local dealer can help explain your options and best solutions for your home.
Search for the nearest dealer to you:
Once you find a dealer, ask for a free, no-obligation quote for upgrading or repairing your existing home heating and cooling system.