Performance™ 16 Heat Pump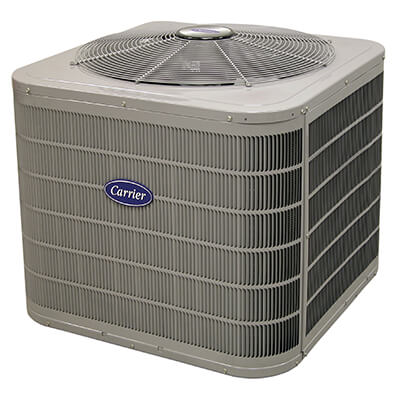 Offers that perfect balance between budget limits you may have today and your desire for long-term energy savings.
Performance series Heat Pumps*A product that works just like an air conditioner in cooling mode; however, in heating mode, the refrigerant flow is reversed and heat is extracted from the outside air too heat your home. offer that perfect balance between budget limits you may have today and your desire for long-term energy savings.
The 25HCB6 boasts cooling efficiencies of up to 17.5 SEER*The Seasonal Energy Efficiency Ratio is a measure of the cooling efficiency of your air conditioner or heat pump. The higher the SEER number, the more efficient the system is at converting electricity into cooling power.. Like other Carrier® heat pumps it's designed to be Hybrid Heat system*Hybrid Heat systems deliver exceptional performance by using a heating source that provides the most energy-efficient comfort during moderate heating conditions. compatible to help you save on heating costs in winter too. But this Performance 16 model also goes that one step further to give you Two-Stage Compressor*Two-Stage Compressors are capable of two levels of operation, a low stage and a high stage. Properly sized equipment will operate 80% of the time in low stage, enhancing efficiency and comfort with lower humidity levels and quieter operation. It's like getting two air conditioners or heat pumps in one system. for added comfort and quiet.
Standard Features
Up to 17.5 SEER cooling efficiency
Up to 9.5 HSPF*

The Heating Seasonal Performance Factor is a measure of the heating efficiency of a heat pump. The higher the HSPF number, the more efficiently the heat pump heats your home. (The cooling efficiency of a heat pump is measured by its SEER.)

heating efficiency
Sound: as low as 70 dB*

Decibels (dB) are a unit measuring the intensity of noise.

1
Superior humidity and temperature control
Two-stage compressor operation for excellent comfort and quiet
Filter drier system protection from moisture and contaminants
WeatherArmor Ultra™*

WeatherArmor™ is a Carrier innovation that protects outdoor units from weather and increases durability.

 protection
Non-ozone depleting Puron® refrigerant
10-year parts limited warranty2
---
1 Quietest size within each model group during most common cooling operating condition.

2 To the original owner, when product is used in a residence, a 10-year parts limited warranty upon timely registration of your new equipment. Warranty period is 5 years if not registered within 90 days. Jurisdictions where warranty benefits cannot be conditioned on registration will automatically receive a 10-year parts limited warranty. See warranty certificate for complete details.
---
Find a dealer near you to install this product!
Once you find a dealer, ask for a free, no-obligation quote for upgrading or repairing your existing home heating and cooling system.