Rebates & Financing
Tax Credits, Rebates, and Financing Options
Turn to the Experts for Money-Saving Comfort
Your local heating and cooling dealer offers a wide variety of products that meet the requirements for state, federal, and utility company tax credits and rebates. Plus, these energy-efficient HVAC units can provide years of substantial savings on monthly energy bills.
HVAC Tax Incentives, Rebates, and Financing Options – All in One Place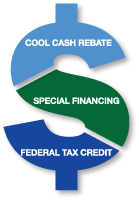 Click here for a one-stop resource where you can find all tax incentives and credits, Carrier seasonal rebates, utility company rebates, and more for every Carrier product.
Simply type in your zip code and get available federal, state, and utility rebates for heating and air conditioning products with links to all necessary submission forms.
You can also find information on:
HVAC Rebates
Heating and Cooling Tax Incentives & Credits
HVAC Financing Options
Geothermal Tax Incentives
HVAC 30-Year Trade-In Promotion
Contact your local heating and cooling contractor for more information on specific heating and air conditioning models and program requirements.
HVAC Financing Programs Designed for You
Are you looking for a way to pay for your new heating or cooling system without breaking the bank? Check out the convenient financing options available from your local dealer.
Best of all, you can choose from a wide variety of plans to best fit your needs.
Plan features include:
Convenient monthly payments
Competitive interest rates
Opportunity to pay over time
Online bill paying options
Additional Ways to Save!
Don't forget, Carrier offers Cool Cash Rebates in the spring and fall seasons for high-efficiency heating and cooling systems. And, be sure to check with you nearest dealer for any tax incentives or utility rebates that may be available in your area.