Performance™ Heat Pump With Basepan Heater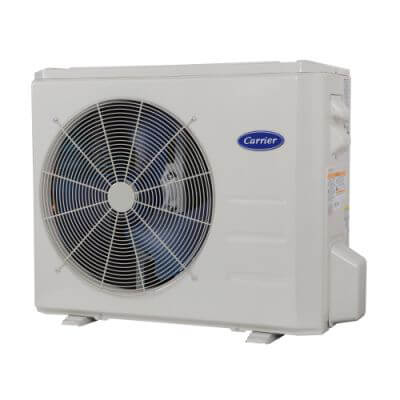 This quiet, compact heat pump pairs with a variety of indoor units for a budget-friendly and flexible solution to your duct-challenged comfort needs
Designed for versatility and year-round comfort, the 38MAR achieves full heating capacity even as temperatures outside dip to 5° F (with the right combination of model size and matched indoor unit). This quiet, compact Heat Pump*A product that works just like an air conditioner in cooling mode; however, in heating mode, the refrigerant flow is reversed and heat is extracted from the outside air too heat your home. pairs with a variety of indoor units for a budget-friendly and flexible solution to your duct-challenged comfort needs. Part of our Performance™ Series, this model really delivers with features like variable speed operation for extra efficiency and reduced sound.
Standard Features
100% Heating Capacity at 5° F (-15° C)*
Inverter*

A variable speed compressor that slows down or speeds up to match the heating and cooling load of the space. This also ensures higher comfort.

Compressor
Up to 25.0 SEER*

The Seasonal Energy Efficiency Ratio is a measure of the cooling efficiency of your air conditioner or heat pump. The higher the SEER number, the more efficient the system is at converting electricity into cooling power.

cooling efficiency
Up to 12.0 HSPF*

The Heating Seasonal Performance Factor is a measure of the heating efficiency of a heat pump. The higher the HSPF number, the more efficiently the heat pump heats your home. (The cooling efficiency of a heat pump is measured by its SEER.)

heating efficiency
Available in 115V and 208/230V
Built-in basepan heater
Piping length 82-164′ depending on unit capacity
Refrigerant leakage detection
Condenser high-temperature protection
Quiet outdoor sound operation, as low as 52.5 decibels1
10-year parts limited and 10-year compressor limited warranties to the original purchasing owner upon timely registration2
---
1 Quietest size within each model group during most common cooling operating condition.

2 If properly registered within ninety (90) days after original installation, parts are warranted to the original purchaser for a period of 10 years. Otherwise, parts warranty is 5 years. For other applications a 7-year parts and 7-year compressor limited warranties apply. See warranty certificate for details.

*Sizes 9-24 (208/230V). Dependent upon indoor unit combination.
---
Find a dealer near you to install this product!
Once you find a dealer, ask for a free, no-obligation quote for upgrading or repairing your existing home heating and cooling system.