Noritz Condensing Gas Combi Boiler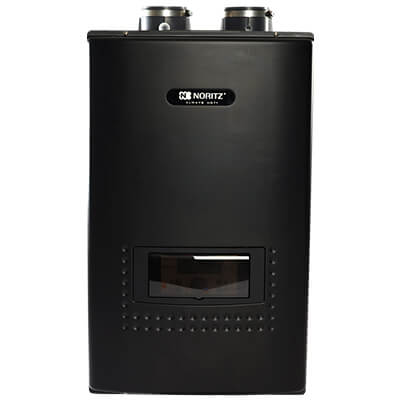 Consumers who use hydronic (hot water) heating in their homes can now install one water-heating appliance to meet both their domestic hot water and space-heating needs
The CB Combination (Combi) Boiler from Noritz utilizes high-efficiency condensing technology to deliver hot water to both plumbing and hydronic heating applications.
At the most basic level, this means having one unit doing the work of two — and more resourcefully at that. The unit delivers hot water at a 95 percent efficiency; that is, 95 percent of the fuel consumed goes to heating the water to the preset temperature, as opposed to being lost up the flue into the atmosphere. This fuel-saving performance earns it the highest Energy Star rating, allowing homeowners to qualify for excellent various state energy rebates around the country.
The CB Combi delivers up to 9.2 gallons per minute of domestic hot water and can be used on a whole host of applications including radiator, baseboard or in-floor radiant hydronic heating; as well as HVAC systems using water-to-air heat exchange with an air handler, and pavement snow melting.
Two models are available for different levels of demand.
The CB180DV has a maximum Btuh of 180,000 for hot water and 100,000 Btuh for space heating.
The CB199DV has a maximum Btuh of 199,000 for hot water and 120,000 Btuh for space heating.
---
Find a dealer near you to install this product!
Once you find a dealer, ask for a free, no-obligation quote for upgrading or repairing your existing home heating and cooling system.