Comfort™ Geothermal Heat Pump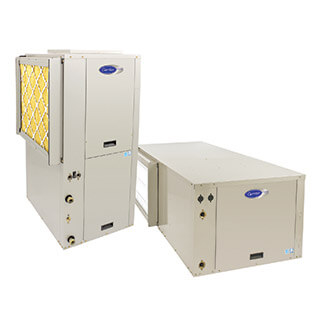 Offers exceptional quality and year-round operation at a price you can get comfortable with
This Comfort™ series water-to-air Heat Pump*A product that works just like an air conditioner in cooling mode; however, in heating mode, the refrigerant flow is reversed and heat is extracted from the outside air too heat your home. offers exceptional quality and year-round operation at a price you can get comfortable with. You cam also enjoy optional supplemental hot water generation to save money on monthly water heating. A single-stage scroll compressor, combined with a multi-speed blower motor, corrosion-resistant coil, microprocessor control and quiet operation make this a great choice.
Standard Features
Single-stage scroll compressor for reliable performance (sizes 2 – 5 Tons*

A unit of measure for cooling capacity. One ton = 12,000 BTUs per hour.

)
Multi-speed blower motor for efficient performance
Excellent dehumidification and temperature control
Insulated cabinet for quiet operation
Large operating temperature range
Corrosion-resistant air coil for long life
Corrosion-resistant drain pan
Microprocessor control for precision operation
2″ MERV*

The Minimum Efficiency Reporting Value is the standard comparison of the efficiency of an air filter. The MERV scale ranges from 1 (least efficient) to 16 (most efficient), and measures a filter's ability remove particles from 3 to 10 microns in size.

 8 filtration
Non-ozone depleting Puron® refrigerant
10-year parts and 5-year labor limited warranty1
---
1To the original owner, when installed in a residence, a 10-year parts and 5-year labor limited warranty upon timely registration of equipment. Warranty period is 5 years on parts and labor if not registered within 90 days of installation. Original owners residing in jurisdictions that prohibit warranty benefits conditioned on registration will automatically receive a 10-year parts/5-year labor limited warranty. See warranty certificate for details.
---
Find a dealer near you to install this product!
Once you find a dealer, ask for a free, no-obligation quote for upgrading or repairing your existing home heating and cooling system.