Infinity® Air Purifier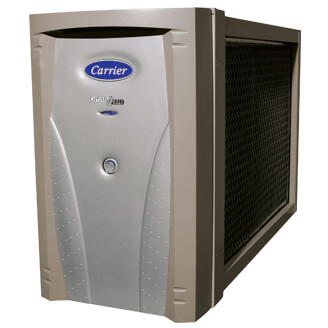 Traps up to 95% of pathogens down to .30 micron in size
The award-winning Infinity air purifier works silently in-line with your HVAC system to make the air you breathe healthier. It uses Captures and Kills™ technology to trap up to 95% of pathogens down to .30 micron in size, then uses an electrical charge to kill or inactive them.
With every cycle of air that passes through this patented air purifying system—up to 8 per hour, pollen, animal dander, smoke, bacteria and other pollutants are trapped and held tightly to the filter. An electrical charge then bursts the cell walls of pathogens it comes in contact with.
Independent testing has proven the Infinity air purifier's effectiveness against 13 pathogens plus a common household fungus.
Standard Features
Whole home air purification system
Long-life MERV*

The Minimum Efficiency Reporting Value is the standard comparison of the efficiency of an air filter. The MERV scale ranges from 1 (least efficient) to 16 (most efficient), and measures a filter's ability remove particles from 3 to 10 microns in size.

 15 filter
Patented Captures and Kills™ technology
Captures up to 95% of particles .30 to 1.0 microns in size
Kills or inactivates up to 99% of germs, pollen and mold captured
Proven effective against 13 common pathogens:

Avian influenza
Human influenza
Wild type A influenza
Common cold
Measles
Smallpox surrogate
Coronavirus (SARS)
Bacillus subtilis
Mycobacterium parafortuitum (tuberculosis surrogate)
Serratia marcescens
Staphylococcus aureus
Streptococcus
Pseudomonas aeruginosa

Proven effective against Aspergillus versicolor (a common fungus)
Protects heating and cooling equipment by not producing significant pressure drop
Can be placed in line with nearly any Ductwork*

Hollow pipes used to transfer air from the Air Handler to the air vents throughout your home. Ductwork is one of the most important components of a home heating and cooling system.

system
Easy to replace, long-lasting filters
10-year parts limited warranty1
---
1To the original owner, when product is used in an owner-occupied residence, a 10-year parts limited warranty upon timely registration of your new equipment. Warranty period is 5 years if not registered within 90 days. Jurisdictions where warranty benefits cannot be conditioned on registration will automatically receive a 10-year parts limited warranty. See warranty certificate for complete details.
---
Find a dealer near you to install this product!
Once you find a dealer, ask for a free, no-obligation quote for upgrading or repairing your existing home heating and cooling system.