Carbon Monoxide (CO) Alarm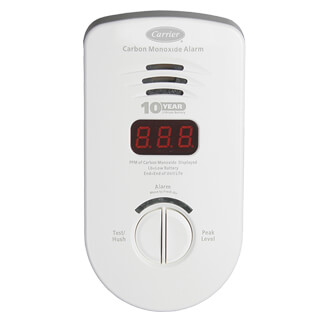 Uses sophisticated sensor technology to detect and record levels of CO
Carbon monoxide is a colorless, tasteless, odorless and highly toxic gas. The Carrier® CO alarm uses sophisticated sensor technology to detect and record levels of CO.
You can monitor the current CO level in your home on a large, easy-to-read digital display. When dangerous levels of CO are present, a loud, audible alarm alerts you and your family automatically.
Standard Features
Monitors CO levels updating every 15 seconds
Uses highly sensitive, CO-specific electrochemical sensor
Detects and stores CO levels as low as 11 and as high as 999 parts per million (ppm)
Loud, 85 decibel pulsing alarm
Peak level button displays the highest CO level recorded since alarm was last reset or unplugged
Power outage backup battery protection
Lithium ion battery does not require replacement
Plugs into any standard electrical outlet and comes with a slide out support and extended power cord for tabletop placement
7-year limited warranty
---
Find a dealer near you to install this product!
Once you find a dealer, ask for a free, no-obligation quote for upgrading or repairing your existing home heating and cooling system.