Features and Benefits of Ductless Split Air Conditioning Systems

Are you considering installing a ductless air conditioning system this year?
Carrier ductless mini-split heat pumps or air conditioners can be a great choice for cooling an older home with no existing ductwork, supplementing a ducted system in rooms that are not adequately cooled, and for adding comfort to room additions or a converted space (such as a basement, garage or bonus room).
Ductless air conditioning systems offer several benefits compared to traditional ducted central AC systems. Here are some of the key advantages of ductless air conditioning:
Energy Efficiency:
Ductless systems are more energy-efficient than central air conditioning systems because they don't lose energy through ductwork. Ductwork can account for up to 30% of energy loss in central air conditioning systems.
Zoning:
Ductless systems allow for individual room or "zone" control, allowing you to adjust the temperature in each room independently which can save energy and improve comfort.
Easy Installation:
Ductless systems are quicker to install with minimal disruption than central air conditioning systems because they don't require ductwork. This can save you time and money on installation costs. Installation by a professional installer provides you with flexibility and comfort without compromises.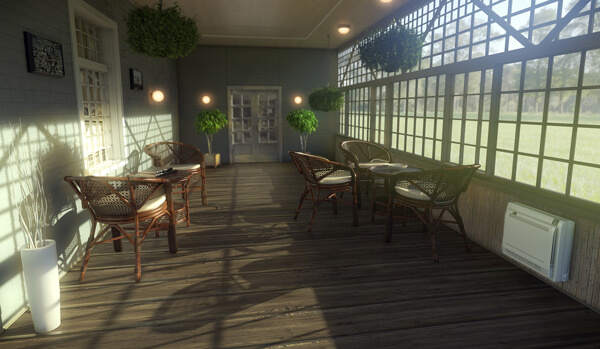 Improved Indoor Air Quality (IAQ):
Ductless systems have built-in air filtration, which helps to improve indoor air quality by removing dust, pollen, and other allergens from the air.
Flexibility:
Ductless systems can be installed in a variety of spaces, including homes without existing ductwork, additions to homes, and commercial spaces. They also come in a variety of sizes and styles to fit your specific needs.
Quiet Operation:
Ductless systems are quieter than central air conditioning systems because the compressor is located outside the home and the indoor units are smaller and run on less power.
Overall, ductless air conditioning systems offer a cost-effective, energy-efficient, and flexible solution for cooling homes and commercial spaces.
Remember to visit our Facebook page for ongoing heating and cooling tips, promotions, and the latest in HVAC technology.