Comfort™ 82 Gas-Fired Boiler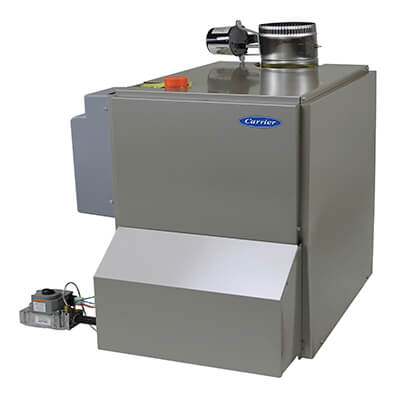 This gas-fired, water output boiler is designed to deliver radiant heating comfort for years to come
Built to last and backed by Carrier, this gas-fired, water output boiler is designed to deliver radiant heating comfort for years to come.
Standard Features
82% AFUE*

Annual Fuel Utilization Efficiency. Indicated as a percentage, your furnace's AFUE tells you how much energy is being converted to heat. For example, an AFUE of 90 means that 90% of the fuel is being used to warm your home, while the other 10% escapes as exhaust with the combustion gases.

Gas-fired, hot-water output
Cast-iron heat exchanger
Titanium composite burners
Single-stage gas valve
10-year parts limited warranty1
20-year heat exchanger limited warranty
---
1 To the original owner, when product is used in an owner-occupied residence, a 10-year parts limited warranty upon timely registration of your new equipment. Warranty period is 5 years on parts if not registered within 90 days. Jurisdictions where warranty benefits cannot be conditioned on registration will automatically receive a 10-year parts limited warranty. See warranty certificate for details.
---
Find a dealer near you to install this product!
Once you find a dealer, ask for a free, no-obligation quote for upgrading or repairing your existing home heating and cooling system.